Dr. Moreno-Sanz has authored more than 30 scientific articles and 3 patents describing the role of the endocannabinoid system in pain perception. Graduated in Biochemistry and Organic Chemistry from the University of Zaragoza, he obtained his PhD in Neuroscience from the Complutense University of Madrid, in Spain. He gained extensive international experience with long-term fellowships in the Netherlands, Italy, and the United States, developing most of his academic career at the University of California, Irvine, where he discovered a new class of cannabinoid analgesic with high clinical potential. In 2017, he acted as a consultant to the National Academies of Sciences of the United States in the preparation of the report "The health effects of cannabis and cannabinoids" and later founded Abagune Research to offer scientific advice and R&D solutions to the international cannabis industry. In 2020 he assumes the scientific and medical direction of Khiron Life Sciences in Europe.
Meet the Experts is a series of interviews conducted by experts from the field of Cannabis to world leaders in research and clinical practice of Cannabis as medicine.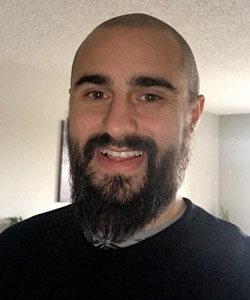 Dr. Robert Laprairie is an Assistant Professor at the GlaxoSmithKline-Canadian Institutes of Health Research Chair in Drug Discovery and Development at the College of Pharmacy and Nutrition, University of Saskatchewan. Robert is also the President and Director of Education for the Canadian Consortium for the Investigation of Cannabinoids (CCIC) and the 2021 Recipient of the William A. Devane Young Investigator Award from the International Cannabinoid Research Society (ICRS).
Robert and his lab have been interested in the molecular pharmacology of cannabinoids for nearly 10 years and he has published nearly 50 studies in the field.
Guillermo Moreno: Robert, can you tell us how did you first got involved with cannabinoid research? What aspects of the endocannabinoid physiology interested you more?
Robert Laprairie: During my MSc at Dalhousie University my supervisor got me interested in a project exploring gene regulation of the type 1 cannabinoid receptor (CB1R) in Huntington's disease. Patients with Huntington's disease lose about half of their CB1R before any symptoms appear. She and I wanted to understand how and why this happened. What I realized early on in this research was how new cannabinoid research was as a field and how many general unanswered questions there were. That openness and unknown of cannabinoid research – the opportunity for discovery – is what really led me in. The skills that I have gained studying cannabinoid receptors are also applicable to the two other non-cannabinoids we study now in our lab: serotonin receptors and orexin receptors. We were led into these fields through collaborations that have been wonderful surprises in my career so far.
GM: Your research is focused primarily on the pharmacology of cannabinoid receptor 1 (CB1). What specific aspects of this target are you trying to elucidate?

RL: We are interested in two main aspects of CB1 pharmacology: allosteric modulators and structure-function relationships. Most of the molecules that have been discovered and used as drugs in the past we can think of as "orthosteric" compounds – they bind to the receptor at the same site as their endogenous ligands. THC from cannabis, for example, is an orthosteric compound because it binds to cannabinoid receptors at the same site that anandamide does. "Allosteric" modulators ("allo" means "other") bind to some other site on the receptor away from the orthosteric site and when they do, they change the receptor so that it is better (a positive) or worse (a negative) at signaling. We and others think allosteric modulators might be beneficial because they do not cause intoxication – like THC does – and may have better selectivity for specific receptors. A structure activity relationship (SAR) is the connection between the shape of a drug and the effect it has on the receptor. Being able to predict the cause-and-effect of these interactions can improve our ability to design new drugs. When designing an allosteric or orthosteric cannabinoid, we assess the bias of the compound between different signals as part of understanding that potential drug's SAR. "Biased signaling" is part of both of these aspects. When a molecule binds a receptor, that receptor adopts a shape that is unique to that particular drug. Those unique shapes in turn promote or reduce the ability of that receptor to produce specific signals. This unique drug-receptor signal is called "biased signaling". Some signals are associated with negative drug effects and other signals may be beneficial, therefore biasing a receptor could lead to safer drugs.
GM: In 2016, you were the first to describe CBD as a negative allosteric modulator (NAM) of CB1. What is a NAM? How did you come up with the idea?

RL: As I said before, a NAM is a compound that binds some other site on a receptor apart from the "main" or "orthosteric" site. NAMs may reduce a receptor's ability to bind orthosteric compounds and/or reduce a receptor's ability to be activated, but they do so without competing with the orthosteric compound. When we were first studying cannabinoids in vitro in cellular models of Huntington's disease, we noticed that, in those cells treated with CBD, the CB1 receptor would move towards the receptor membrane. That type of response is what would be expected when cells are treated with a receptor antagonist. But, when we treated the cells with a receptor agonist combined with CBD, the effect of CBD did not match a typical antagonist or inhibitor. Instead, the effect resembled more to what others were seeing for NAMs. Two years of work later, our data supported the hypothesis that CBD behaves like a NAM of CB1 receptors in cultured cells.
GM: What do you think of the preclinical research that came after that, aiming to characterize the effect of CBD on THC-mediated CB1 signaling?

RL: Following the publication of our work there was a lot of cell culture and animal-based research that explored this idea. I think the most exciting for me was when Ken Mackie and Alex Striker published electrophysiology data from hippocampal neurons that supported our observations. I also recognize that many people were seeing many effects of CBD at many receptors (e.g. 5HT-1a) and this is also very important. CBD seems to be a promiscuous drug that binds many different receptors. This promiscuity makes working out CBD's actions in the living body challenging to determine.
GM: Your work has been commonly interpreted as a plausible explanation to why cannabis formulations containing similar amounts of CBD and THC are typically more tolerable than THC alone. Do you think this is an oversimplification of what happens in reality?

RL: Yes! I think this is an oversimplification. While I agree that evidence from our cell culture results may be a plausible explanation, I think there are many things that could account for the effects observed when products combining THC and CBD are consumed. There is also clinical data for some disease states that do not show a modulatory effect of CBD. We now know CBD binds many receptors and could also be affecting the pharmacokinetics of THC. In vitro models are valuable for understanding the molecular pharmacology of a compound, but their utility in a living human organism must be extrapolated with caution.
GM: Recent reports suggest that CBD may interfere not only with unwanted side effects of THC but also with its therapeutical value, for example, at reducing neuropathic pain. Does this make sense to you?

RL: Yes, this absolutely makes sense to me, regardless of the specific mechanisms of action employed by CBD if it can interfere with THC's negative effects then it would also interfere with THC's therapeutic value.
GM: You have continued doing research on allosteric ligands of CB1 receptors. Do you think this class of compounds have clinical promise? What would you say is currently the most advanced candidate?

RL: Yes, I believe CB1 allosteric ligands hold significant therapeutic promise, particularly because the compounds we and others have tested to date do not seem to produce tolerance or dependence in the long term and are not overtly intoxicating like THC is. Our data from preclinical models of epilepsy has been particularly promising, so has been our collaboration with Prof. Andrea Hohmann in animal models of pain. Our lab has historically focused on positive allosteric modulators (PAM) and, while these are still in the early development phases, some ligands such as GAT591/GAT593 hold a lot of potential to be developed further. Other groups exploring synthetic NAMs may be further along in advancing compounds for substance use disorders, which is also really exciting.
GM: How has been you experience as a cannabinoid researcher in Canada? Did the regulation of the adult/recreational market in 2018 affect your research at all, for good or bad?

RL: My experience in Canada has been excellent and I think I owe a lot of that to the support of my college and university. The regulatory framework that we have now adopted in Canada has its benefits and its drawbacks. The benefit is that we can readily source cannabis products that are identical to what medicinal and recreational users consume "in the real world", and this remains very challenging (if not impossible) in the US. The drawback is that the bureaucracy involved in getting permits – particularly for my clinical colleagues – remains very challenging and limiting. Regulatory affairs offices in Canada have not been able to keep up with the explosive demand for access to cannabis by researchers and the unclear communications from funding agencies and government policy body have made it difficult for many researchers to navigate the shifting regulatory landscape of cannabis. Here at the University of Saskatchewan, I have been very fortunate because we hold an institution-wide license to handle cannabis and specific support personnel have been hired to help us navigate this paperwork. I think that the legalization that occurred in Canada in 2018 brought a lot of media attention on the desperate need for cannabis research and education which, in turn, also increased funds available to researchers like myself to fill all these important gaps in our current knowledge.
GM: What is the Cannabinoid Research Initiative of Saskatchewan and what has been your role on it?

RL: CRIS is an interdisciplinary research group hosted by the University of Saskatchewan that aims to bring together cannabis and cannabinoid researchers across Saskatchewan. Presently, we have nearly 50 members from two universities and six different colleges spanning policy, agriculture, and medicine. Before the pandemic (and hopefully after) we hosted annual symposia to communicate our research and enable cannabis education. My role in CRIS has been to co-lead the biomedical pillar and to organize our symposia.
GM: You are the director of education of the Canadian Consortium for the Investigators of Cannabinoids (CCIC). What is the CCIC and what has been your experience like with it?

RL: The CCIC is a non-profit organization composed by cannabinoid researchers and healthcare professionals. We aim to be a trusted resource for evidence-based education on the health impacts of cannabis and to be the Canadian hub for cannabis and cannabinoid research. Our members include students, academic researchers, physicians, pharmacists, nurses, and industry members (although industry members are non-voting members to avoid bias). In terms of education, we offer (1) an annual continuing medical education (CME)-accredited conference (hybrid virtual this year April 21-22) that provides basic education and insight of new developments; and (2) the "Canadian Cannabis Syllabus" which is a fully accredited, 9-module on-line course designed for healthcare practitioners to gain a broad knowledge of the endocannabinoid system and medicinal cannabis. We also strongly encourage our full members to engage the public and caregivers in local talks and discussions to disseminate medical cannabis education. I personally do 3-4 of these public talks per year. My experience with the CCIC has been amazing. As a MSc student I was awarded a scholarship from the organization and now I steer the scholarship program for CCIC. Being able to give back and hand out these awards to new trainees has been my favorite part of the CCIC.
GM: Thank you, Robert, so much for sharing with us your experiences!