Dr. Raquel Peyraube is a doctor in medicine and a specialist in the problematic use of drugs. She has trained in psychiatry, toxicology and psychoanalytical psychotherapy and in subjects such as childhood, adolescence and social exclusion. She has 28 years' experience in the field. Throughout her career, she has made contributions in training, prevention, treatment and damage reduction, including innovating theoretical and methodological developments with emphasis on ethical issues. As a former clinical director of ICEERS, she is now an ad hoc consultant of the Uruguayan National Drugs Secretariat giving advice on reform of the public drugs policy and of the Institute of Cannabis Regulation and Control. She is a clinical researcher and a member of research teams for monitoring the law in Uruguay. She sits on several international scientific committees and is an active member of the IACM (International Association for Cannabinoid Medicines). She currently works on the development of clinical trials, medical education on medicinal cannabis, and dissemination of information and advice for reform of drugs policies in various countries.
Meet the Experts is a series of interviews conducted by experts from the field of Cannabis to world leaders in research and clinical practice of Cannabis as medicine.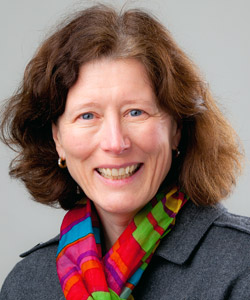 Dr. Kirsten R. Müller-Vahl is a Professor of Psychiatry at the Department of Psychiatry, Socialpsychiatry and Psychotherapy at the Hannover Medical School (MHH), Germany. She is a specialist in both neurology and adult psychiatry. From 1997 to 2003 she was a grant holder of the German government (Dorothea-Erxleben-Stipendium) for scientific research related to Tourette syndrome (TS). During the last 20 years she has investigated more than 1500 patients with TS (children and adults) and is the head of the Tourette-Syndrome outpatient department (since 1995). From, 2012-2016 she was the vice president of the European Society of the study of Tourette syndrome (ESSTS). She was a German representative of the COST Action BM0905 ("European Network for the Study of Gilles de la Tourette Syndrome"). She is a full partner and a working group leader in the EU funded programmes "European Multicentre Tics in Children Studies" (EMTICS) and "TS-EUROTRAIN-Interdisciplinary training network for Tourette Syndrome". She is a member of the Medical Advisory Board of the Tourette Association of America (TAA) and an author of the guidelines for the treatment of TS of both ESSTS and the American Academy of Neurology. Since 1998, she is a member and 2. Chairwoman of the Association for Cannabinoid Medicines (ACM). She was a founding member of the International Association for Cannabinoid Medicines (IACM) and from 2007-2009 1. Chairwoman and since 2015 vice president of the IACM.
Raquel Peyraube: Thank you Kirsten and welcome to the cycle of interviews with medical cannabis experts of Fundación Canna. As you know one of the two main goals of Fundación Canna is to spread accurate information to contribute to people's education in this field. So, I'm very grateful for your contribution.
First of all, please tell us what are the neurological diseases that can be helped by medical cannabis use and what are the expected or potential benefits.
Kirsten Müller-Vahl: With respect to neurological diseases most data are available for the treatment of spasticity in patients suffering from multiple sclerosis (MS). In this indication, altogether 13 controlled trials including a total number of N=1704 patients have been performed using the cannabis-based medicine nabiximols (Sativex®) demonstrating the efficacy and safety of Sativex® in this group of patients. In addition, from one controlled trial and large clinical experience it is well know that medical cannabis is also effective in the treatment of spasticity and pain in patients with MS.
There is also some evidence that cannabis and cannabis-based medicine might be effective in further neurological indications including tremor and bladder dysfunction in MS, spasticity due to other reasons such as spinal cord injury, epilepsy, as well as different kinds of movement disorders such as Tourette syndrome and other tic disorders, dystonia, Huntington's disease, and Parkinson's disease.
RP: Is there any explanation that could help people and physicians to understand why these neurodegenerative diseases, such as Parkinson, MS, Huntington's disease, etc., are responding to cannabinoids treatment even been so different?
KMV: Today it is well known that the central endocannabinoid system (ECS) in the brain – that consists of cannabinoid CB 1 and CB 2 receptors and endogenous ligands (so called endocannabinoids such as anandamide and 2-AG) – modulates and inhibits the release of many neurotransmitters including dopamine, GABA, and glutamate. Different studies have demonstrated that the ECS is abundant in the basal ganglia but also several other brain areas. The basal ganglia are involved in motor control and therefore play a major role in the pathology of movement disorders such as Tourette syndrome, dystonia, Huntington's disease, and Parkinson's disease. Due to the broad distribution of the ECS within the nervous system and the complex interaction with so many other neurotransmitters, it is plausible that cannabis may improve symptoms in several different neurological diseases.
RP: I'm sure people will find this very interesting. In the case of Tourette Syndrome, subject where you are internationally recognized as probably the most important scientific authority?
KMV: It is thought that Tourette syndrome is caused by imbalances in the dopaminergic system in the brain. However, Tourette syndrome is a very complex disorder and most of the patients suffer not only from tics, but also from psychiatric comorbidities such as attention deficit hyperactivity disorder (ADHD), obsessive compulsive behavior (OCB), self-injurious behavior, depression, anxiety, impulsivity, rage attacks, and sleep problems. Therefore, it is highly likely that not only the dopaminergic system is affected, but also other transmitter systems including the glutamateric, GABAergic, serotonergic and histaminergic systems. Since ECS exhibit various interactions with all these systems, it can be assumed that the ECS plays a key role in the pathology of Tourette syndrome. Finally, reports from our patients and small controlled trials strongly suggest that cannabis and cannabis-based medicine are effective in the treatment of both tics and psychiatric symptoms.
RP: This is very important to know by people suffering this syndrome, as in general they don't have good results with conventional treatments.
Are there any considerations that patients with these diseases should take into account if they are thinking about looking for these treatments? For example, interactions, cannabinoids needed, etc..
KMV: In general, cannabis and available cannabinoid receptor agonists (such as dronabinol and Sativex®) show similar side effects. Patients should be aware of psychoactive effects that particularly occur when treatment is initiated and at doses above patients' individual psychotropic threshold. Rarely dysphoria, anxiety and panic attacks may occur. Typical side effects are impairment of memory, reductions in psychomotor and cognitive performance as well as tiredness, dizziness, tachycardia, orthostatic hypotension, dry mouth, and increased appetite. However, to most of these side effects tolerance develops within days or weeks.
Since in neurodegenerative diseases such as Huntington's disease and Parkinson's disease psychosis may occur, it is important to know that cannabis may induce psychosis in vulnerable individuals and, therefore, psychosis is regarded as a contraindication for the treatment with cannabis.
Cannabis interacts only with very few other drugs in a clinically relevant way. However, cannabis smoking for example can alter the effects of antipsychotics or antiepileptic drugs. Clinically relevant are also additive effects, when cannabis is given in combination with other drugs that may cause similar psychotropic and cardiovascular effects.
RP: Your clinical trial with cannabis in Tourette Syndrome has been approved and very soon you will start running it. Congratulations, as there are very few clinical studies with cannabis. Can you tell us objectives and its main features?
KMV: In 2017 we will perform different studies investigating the effects of cannabis-based medicine and substances that modulate the endocannabinoid system in patients suffering from Tourette syndrome. Firstly, we already started a phase 1b study together with the company Abide Therapeutics, USA. In this study efficacy and safety of ABX-1431, a first-in-class investigational monoacylglycerol lipase (MGLL) inhibitor, will be investigated. ABX-1431 inhibits the endocannabinoid-degrading enzyme MGLL. Secondly, we will perform a large randomized controlled trial investigating the effect of Sativex® in N=96 patients with Tourette syndrome. Thirdly, we plan to perform a small controlled trial investigating the effects of THX-TX01, which is a fixed combination of dronabinol (THC) and palmitoylethanolamide (PEA).
The main aim of all these studies is to investigate the effects of substances that stimulate the activity of the endocannabinoid system on both tics and different psychiatric systems such as ADHD, OCD, and depression in patients with Tourette syndrome.
RP: An excellent work plan. We will be waiting for the results and be back to you.
Now, Germany has legalized a few weeks ago. Congratulations for this too. I know you have been advising the process and that your presentations and opinions have been particularly valued. Can you explain to us the most important aspects of the law such as production, products that will be allowed, access, prescription, price, if there's a list of the diseases for which it will be possible to prescribe cannabis and derivatives, quality control, and any other aspect you consider important.
KMV: Yes, indeed this new law is a great step forward! From March 2017, cannabis flowers will be available on prescription for medicinal purposes in Germany. According to this law, cannabis flowers can be prescribed to patients, who suffer from serious illnesses such as multiple sclerosis and chronic pain. In addition, it will become easier to prescribe cannabis-base medicines such as Sativex®, dronabinol and nabilone. Most importantly, prescription is not restricted to certain diseases. However, cannabis can be prescribed only to those patients, where other treatments are not available or ineffective or unacceptable. The German Health Minister said: "Those who are severely ill need to get the best possible treatment and that includes health insurance funds paying for cannabis as a medicine for those who are chronically ill if they can't be effectively treated in any other way".
Cannabis flowers can be prescribed by every German doctor. In general, health insurances will have to cover the costs of the treatment. State-supervised cannabis plantations will be set up so that for the first time it is allowed to grow cannabis for medicinal purposes in Germany. However, individual patients will not be allowed to grow their own cannabis.
Dr. Franjo Grotenhermen, Chairman of the German Association for Cannabis as Medicine (ACM), said: "This is a tremendous achievement of all patients, doctors and lawyers, who since many years worked for the improvement of the medical care of the population with cannabis within the ACM, increasingly supported by other people, organizations and politicians."
RP: I agree this is a tremendous step forward within the EU and the world, and I'm sure it will certainly lead other countries to rethink this issue. Finally, what would be your recommendations from a public health perspective for countries and jurisdictions that are thinking in legalizing for medical purposes.
KMV: Countries, who think about or plan to legalize cannabis for medicinal purposes, should keep in mind that (1) at present time we do not know exactly, for which patients cannabis may be helpful. Therefore, it does not make any sense to restrict prescriptions to certain diseases; (2) all countries should contribute to the aim to increase our knowledge on the effects of cannabis in different indications and therefore should support research in this area; (3) when medicinal cannabis is legalized and can be prescribed by medical doctors, for the majorities of patients it becomes available only in case, health insurances cover the costs; (4) patients and medical doctors should be able to decide, whether treatment with cannabis, cannabis extracts or individual cannabinoids such as dronabinol should be preferred; (5) it might be the case that consecutively other laws have to be adapted, for example laws that regulate car driving for patients who use cannabis for medicinal purposes.
RP: Thank you so much! It has been a great pleasure listening to you. I'm sure people will be grateful for all the knowledge and advise you've shared, and I hope policy makers will take into account your wise recommendations for the good of all people that need new responses for old sufferings.