Sarah Russo is a writer, cannabis consultant, and a social media and content manager. She got her degree in environmental studies and social justice, with a focus in plant medicine from the Evergreen State College. She has previously worked for Project CBD and the Society of Cannabis Clinicians. She has also acted as an herbal medicine educator in natural remedy apothecary shops. Some of her main goals are diversifying the cannabis movement by integrating the plant into the greater herbal medicine compendium as well as encouraging sustainable agricultural practices.
Meet the Experts is a series of interviews conducted by experts from the field of Cannabis to world leaders in research and clinical practice of Cannabis as medicine.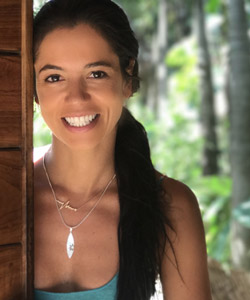 Paula Dall'Stella is a functional medicine doctor with six years of experience working in the radiology sector at Sirio Libanes Hospital in São Paulo, Brazil. She got her residence in general ultrasound & radiology at Hospital das Clínicas da Faculdade de Medicina da USP, and her post graduation in neuro-oncology at Hospital Sirio Libanes.
Paula has also studied alternative medicine in southeast Asia and has been a volunteer doctor at the United Nations Stabilization Mission in Democratic Republic of the Congo.
She is the scientific director of AMA + ME - Brazilian Association of Medicinal Cannabis Patients and gives lectures to oncologists and neurologists on the endocannabinoid system and medical cannabis in hospitals and in Brazilian Universities. She is also a member of the International Cannabinoid Research Society and the International Association for Cannabis as Medicine.
Sarah Russo: What inspired your focus on cannabis as a medical practitioner?

Paula Dall'Stella: Everything started when I was in a relationship with someone who had brain cancer. Through the work of Manuel Guzman and Cristina Sanchez, I heard about the endocannabinoid system for the first time. I watched a documentary that discussed the anti-tumoral properties of cannabinoids. This surprised me as a doctor, because I didn't learn about the endocannabinoid system at university or with my colleagues. I began studying medicinal cannabis and got in touch with Manuel Guzman to better understand their research. I started attending conferences about the subject and got to know the investigators and their studies. I realized how much science we have behind cannabis and how it is important as a doctor to understand it. So it started with a relationship, and now 99% of my patients are recommended cannabis.
SR: What is the landscape like for medical professionals who work with cannabis in Brazil?

PdS: There isn't a medical cannabis law in Brazil, yet. As a doctor I can prescribe it, but the content of CBD must be higher than THC. Cannabis is still considered a drug. Cannabidiol (CBD) is not on the list of prohibited drugs, while THC is. As what happened in the USA, a group of mothers who have children with refractory epilepsy started a movement here. They went on television and said, "I'm going to be a drug dealer. If this is a drug, but it will save my child's life, then I don't care." The situation shifted because of these mothers and their children and other patients can now be prescribed CBD.
Brazil is able to import CBD products into the country. Now there are more than seven companies doing so. However, these products don't have the rules of a medication, so we don't know exactly what they contain, or if each package has the same dosage. The medicine is also very expensive. Some patients will need to use CBD medicine long term and the cost may not allow them to do so. Brazil doesn't have a resolution for that yet. There are international and national companies that are doing research and plan to do clinical trials (Phase 1-3) to sell the medication in the pharmacies. That process may happen in around three years.
Unfortunately, due to the lack of knowledge and prejudice many doctors have, they claim there are no studies about cannabis that prove its efficacy. This prevents their patients from benefiting from cannabis treatment.
SR: Do patient have access to safe and reliable cannabis based medications in your country?

PdS: There are no cannabis testing labs in the country so it is hard to know what is inside of the products. There was a project in Brazil that took samples of oil around the country to understand what is being imported and what local producers are making. Some of the importing companies who claimed the a specific mg/ mL dosage on the label, turned out to be inaccurate. Some locally produced oil often has a decent quantity of cannabinoids, but these products are not legal under the law. We're facing a lot of issues with quality control and standardization.
SR: What are some of the most exciting advancements happening in the field of cannabis science from your perspective?

PdS: The most exciting thing for me is to see is a deeper interest in the research and development of cannabis as we see more countries legalizing it for medical use. We are getting a more profound understanding of the endocannabinoid system now than ever before. Research is popping up in many different places, including Brazil!
We are making history, and it is super exciting to see. I was one of the first doctors in Brazil to begin working with cannabis and I have been on this path for over four years. Most of the patients that come to me want to be treated by someone who understands the use of cannabis. They see it as a medicine. And as a doctor, it is really satisfying to watch patients get better with cannabis. They are able to drop many unnecessary drugs and control their disease and symptoms much better.
SR: Have there been instances of a great difference between the results you have seen in your clinical practice and the findings in preclinical studies?

PdS: I haven't noticed any controversial differences from my patients as compared to what I've seen in research studies. The endocannabinoid system is different in each person, and it can also vary in an individual each day. Cannabinoids isolate products are becoming more widespread. My perspective is that whole plant medicines are better. Research studies have demonstrated that whole plant medications get a greater therapeutic response from patients. With purified isolates, we don't know what to expect. I can't come to a solid conclusion right now. I need more time, to get more feedback and make more observations.
SR: What's your perspective on the effectiveness of cannabis in combination with chemotherapy or radiation?

PdS: I love using cannabis as a tool for oncology patients. In my experience, cannabis is one of the best medicines for controlling nausea, improving sleep, boosting appetite, and lifting the mood. I have seen high THC medicines be helpful for these issues, as well as low doses of CBD. I encourage my patients to exercise an hour or so before a chemotherapy treatment, which can help boost your immune system. Patients that use cannabis perform clinically much better than those using common medicines for the same situations. I've had great results when my patients used CBD before and during radiotherapy. We don't yet know the long term impact, but for now, clinical results show that patients are improving when using cannabis.
SR: Can you talk a bit about your poster at the last ICRS (International Cannabinoid Research Society) conference?

PdS: I did my post graduate in neuro-oncology, so I've been following a group of patients since then. Two of the patients with Stage III and IV brain cancer, after an incomplete surgical resection, were submitted to the Stupp protocol (a radiotherapy treatment accompanying chemotherapy over 6 weeks). Cannabidiol was added to the treatment protocol. Both patients presented very satisfactory clinical and imaging responses in periodic evaluations.
Right after the chemoradiation, one of the patients presented a very exacerbated and precocious tumour pseudoprogression (PSD) in the MRI, which was resolved in a short period of time. The other patient had a marked remission on the altered areas in the MRI. Tumor pseudoprogression corresponds to a treatment-related increase of lesion size due to the inflammatory responses that simulate the progression of the disease. Pseudoprogression does not represent an actual progression of the disease, and is often a marker of longer survival. This is presumably because it represents a robust response to treatment. This observation could highlight the potential effect of CBD to increase positive PSD response which could impact survival.
Neither of the patients had the chronic fatigue or other side effects that many people feel during chemo or radiation. One of them was bicycling 40 kilometers a day. They've had a great clinical performance. Further investigation with more patients and critical molecular analyses is needed.
SR: Are there particular types of cancer that cannabis is especially useful for? Are there types of cancer that seem to be resistant to cannabinoids?

PdS: It's hard to say. We know from animal studies that some types of tumors are more vulnerable to cannabis treatment. But for humans we need more time to observe, and of course clinical trials to confirm it. Unfortunately, most patients search for cannabis when nothing else works. Cannabis is not a miracle. We know that there is a synergistic effect with some types of chemotherapy and cannabinoids, so I encourage patients to use both. The earlier the patient can begin on the combination, the better. I never encourage my patients to use cannabis as a monotherapy.
SR: What is your opinion about using cannabis preventatively to avoid getting cancer or other diseases?

PdS: Cannabis is a very potent antioxidant, like Vitamin A, C, and E. So in that sense, we could use it as a supplement on a daily basis to protect ourselves. However, there are many questions about how cannabis works long term. We have a whole system that interacts with it. It's more complex than the vitamins we take. I currently don't have answers on whether using a certain dose of cannabinoids per day would have an impact on preventing cancer, because it is a multifactorial disease. In my daily practice, I use vitamins and antioxidants with my patients because it is important for mitochondrial function. I like to use CBD for similar reasons. But I presently use it as a medication, not as a supplement.
Most people look for cannabis as a substance that can resolve most of their problems. If a miracle substance existed, we wouldn't have disease. The best medicine is to avoid disease with a healthy lifestyle. If we look at cannabis in this way, then it could be used as preventative medicine.
SR: Thank you for your insight, Paula.