Associate Professor of the Department of Biochemistry and Molecular Biology I, University Complutense of Madrid and member of the board of directors of Observatorio Español de Cannabis Medicinal.
On 17 and 18 October 2019, a symposium dedicated to translational oncology took place in the Faculty of Medicine at the Complutense University of Madrid: "Translational Oncology: from basic research to clinical benefit", which materialised thanks to the support of several sponsors, including the Fundación CANNA, and attended by more than 140 people.
An important part of the progress that has been made in the last 20 years in cancer treatment is based on the collaboration between basic and clinical research. There are numerous examples in which discoveries obtained in research laboratories using preclinical cellular or animal models have enabled the foundations to be laid for developing new diagnostic methods and/or new therapies that have enabled some types of tumours such as certain subtypes of breast cancer, lung cancer and leukaemia having gone from being virtually incurable to becoming chronic diseases or sometimes even completely cured. It is therefore a path that has already reported notable successes and that must be decidedly followed.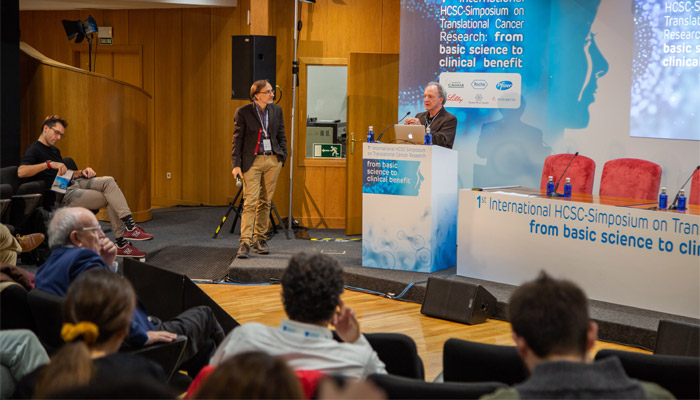 Debate after Pier Paolo Pandolfi's talk
However, one of the difficulties faced by this strategy is that communication between basic researchers and clinicians is not always easy. Thus, oncologists and doctors responsible for treating cancer patients frequently do not have in-depth knowledge of the precise biochemical and molecular mechanisms that determine tumour development and progression. On the other hand, basic researchers are not always fully aware of the difficulties involved in daily clinical practice, nor of the steps required to implement new treatments in cancer patients. All this makes it especially important to develop forums that allow improved communication and cooperation between clinical and basic researchers. This first international symposium on translational oncology at the San Carlos Clinical Hospital has been a meeting place that has undoubtedly helped to lay the foundations for new basic and clinical research collaborations.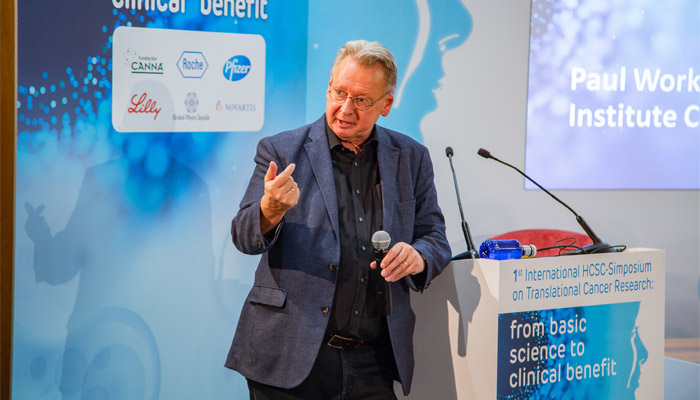 Debate after Paul Workman's talk
It is thus worth highlighting the important role that cannabinoids may play in oncology, either as agents that can help to alleviate cancer patients' symptoms or as agents that have the potential to be used as anti-tumour drugs. Unfortunately, the degree of knowledge among the medical community about the therapeutic properties of marijuana derivatives and specifically of the usefulness they may have in cancer patients is still limited. It is therefore especially important to disseminate, promote and highlight the current state of this knowledge among clinical oncologists so that cannabinoids can be gradually established as another therapeutic tool for the treatments available for cancer patients.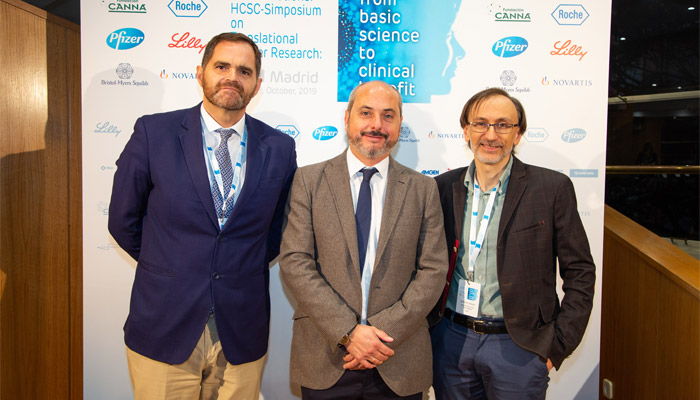 On the left, the organizers of the symposium: Pedro Pérez Segura (Head of Oncology Service of the HCSC), Alberto Ocaña (clinical oncologist of HCSC) and Guillermo Velasco (Professor of the UCM and translational research coordinator in HCSC Oncology).
In the talk that I presented during the first day of the conference, attended by numerous basic and clinical researchers from various national and international centres, I had the opportunity to summarise current knowledge about the therapeutic properties of cannabinoids, focusing on their possible usefulness in oncology. I began by summarising the endocannabinoid system's important role in regulating numerous physiological functions throughout the organism. I also pointed out that numerous preclinical and clinical studies have shown that the use of drugs or extracts containing THC (or other compounds derived from it with the capacity to stimulate cannabinoid receptors), stimulates appetite, inhibits nausea and vomiting sensations and may produce an analgesic effect. All these effects can be very useful for relieving the symptoms associated with chemotherapy treatments, which has led to some cannabinoid drugs having been approved in some countries for use with cancer patients.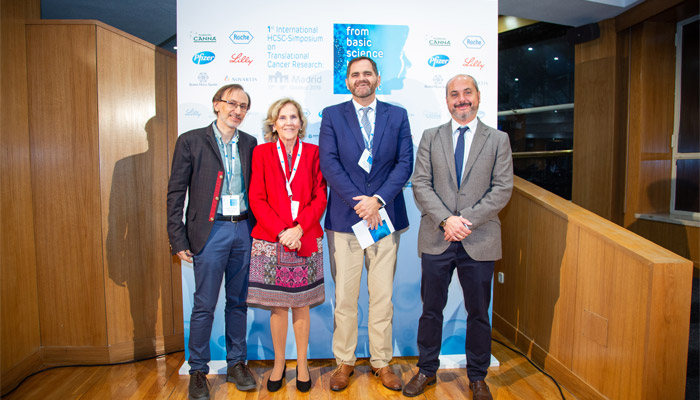 From left to right: Guillermo Velasco, Trinidad Caldes, Pedro Pérez Segura and Alberto Ocaña
I dedicated the rest of the talk to another less established although very promising aspect of the possible therapeutic application of cannabinoids: their anti-tumour potential. Numerous investigations have shown that THC and other cannabinoids have anti-tumour activity in animal cancer models. Another series of studies has also shown that the combination of cannabinoids with other anti-tumour agents can produce a greater anti-tumour effect than administering these compounds individually. In the presentation, I showed some of the data that allowed to lay the foundations of developing a clinical trial in which the anti-tumour action of the drug Sativex was analysed (a drug produced by the company GW pharmaceuticals that contains THC and CBD in a 1:1 ratio) in combination with Temozolomide (the reference chemotherapeutic agent for treating patients with Glioblastoma). Although the results of the trial are not fully known, the data that has already been made public indicates that the combination of Sativex and Temozolomide produced a significant increase in the survival of the trial patients compared with those treated with placebo and temozolomide. These are promising results that support the idea that cannabinoids can be useful for treating this type of brain tumour. In any case, additional clinical studies with a greater number of patients are required in order to corroborate these observations.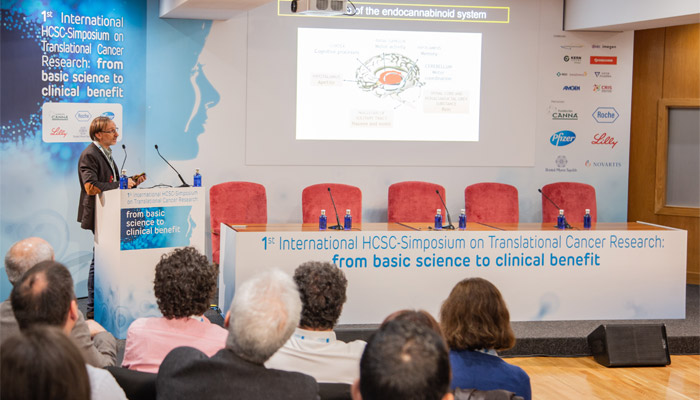 Guillermo Velasco during his talk explaining the role of the endocannabinoid system.
It should be noted that this type of translational research fits perfectly in the symposium approach. Thus, the talk illustrated how, based on results obtained in the laboratory and in animal models, and thanks to the collaboration of basic and clinical researchers, clinical trials can be developed in which the possible usefulness of anti-tumour treatments for cancer patients, in this case based on the use of cannabinoids, can be analysed. In my opinion, presenting these results in scientific forums in which clinicians and oncologists participate is one of the strategies that can contribute to normalising the use of cannabinoids in cancer patients.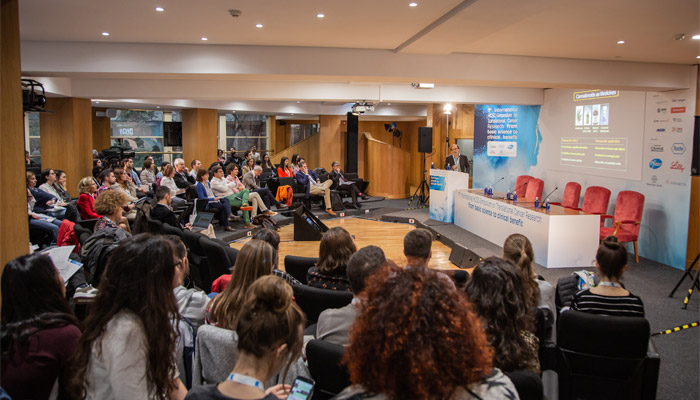 Guillermo Velasco during his talk explaining the therapeutic actions of cannabinoids.
It is important to highlight that the symposium was attended by numerous internationally renowned basic and clinical researchers who presented results of great interest, which in many cases are already contributing towards improving existing anti-tumour therapies. Two such guest speakers were: Pier Paolo Pandolfi (Harvard University), responsible for the basic translational guest conference and Paul Workman (the Institute of Cancer Research, London) who gave the closing talk on personalised medicine. These are two researchers of the highest level who aroused enormous interest among those attending the symposium. Equally distinguished speakers included Laura Saucek (from the Vall D'Hebron Cancer Research Institute, Barcelona), Marcos Malumbres (Oncology Research Centre, Madrid), Arkaitz Carracedo (CiC BioGUne, Derio), Mari Luz Martínez Chantar (CiC BioGUne, Derio), Rajesh Chopra (Institute of Cancer Research, London), Pilar Sánchez Gómez (Carlos III Institute of Madrid) and Balázs Gyöffry (Institute of Enzymology, Budapest).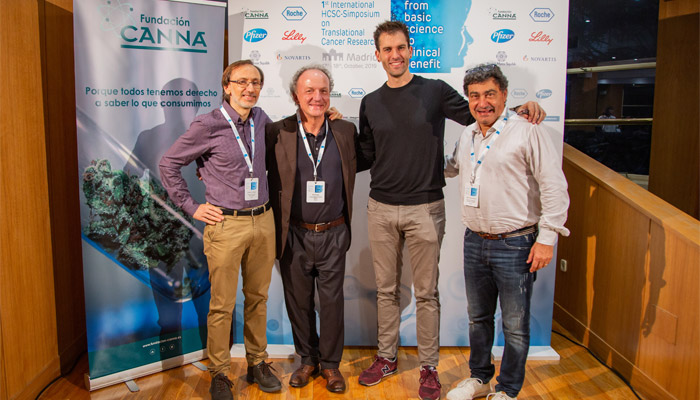 From left to right: Guillermo Velasco, Pier Paolo Pandolfi (Harvard Medical School), Arkaitz Carracedo (CIC Biogune, Derio) and Juan L Iovanna (INSERM, Marseille)
Finally, it should be stressed that this international symposium served as a presentation for the new translational oncology project that will begin to be developed at the San Carlos Health Research Institute. The project is led by the translational oncology group of the San Carlos Clinical Hospital in which numerous oncologists and researchers from the Hospital and the Complutense University of Madrid participate. The strategic research objectives of the Translational Oncology group of the Clinical Hospital include developing new studies aimed at analysing the usefulness of cannabinoids as drugs with therapeutic potential in oncology.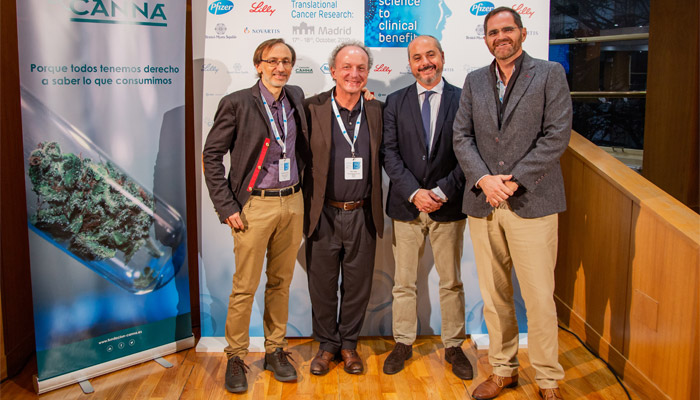 From left to right: Guillermo Velasco, Pier Paolo Pandolfi (Harvard Medical School), Alberto Ocaña y Pedro Pérez Segura